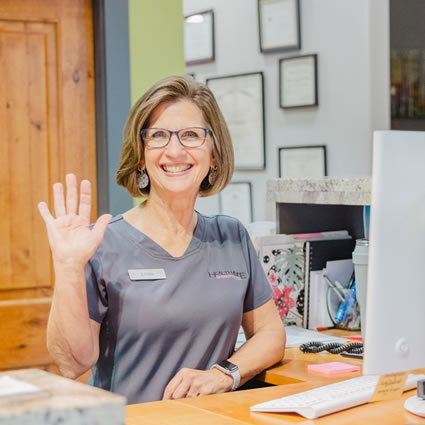 Health 4 Life Chiropractic Reviews
What Our Murfreesboro Patients Say
We value our patients' experience at Health 4 Life Chiropractic. If you are currently a patient, please feel free to complete the following Client Experience Questionnaire.
Download & Print Questionnaire


Excellent Experience
When I first came to Health4Life Chiropractic, I had back and shoulder pain as well as very poor posture. My knees were also starting to hurt after completing long runs. The pain was persistently getting worse and I was afraid of the serious implications of non-treatment.
The staff at Health4Life Chiropractic has drastically improved my health. After just a short while my back and shoulder pain was gone and my posture was greatly improved. After being fit for custom orthotics, my running greatly improved with no knee pain. Now, I am able to run over 30 miles per week with little problem.
My overall experience at Health4Life Chriopractic has been excellent. The staff is so caring and really interested in returning you to optimal health. Each individual is treated with personal care and dedication. I would greatly recommend Health4Life Chiropractic to anyone needing treatment.
– Josh L., Business Owner and Distance Runner
Pain is in the Past
I have had lower back pain for many years. I had taken epidural shots to ease the pain a few years ago. The shots worked temporarily, but never truly cured my problem, only masked the pain. I have also had pain in my right shoulder for nearly a year.
In the 2 months I have been visiting Health4Life, I can count on one hand the number of times my back or shoulder hurt, whereas prior to care, they hurt most every day. I do not have any pain when I hold my little girl and I was even able to carry my son on my shoulders for the better part of a day recently.
My experience with Health4Life has been an enjoyable one. Being able to get adjusted prior to going to work is an added benefit. My skeptic views of chiropractors, as well as my pain in my neck and back are a thing of the past….thanks to Health4Life Chiropractic.
– Chris W., IT Manager
Caring and Knowledgeable
I was looking for a prevention plan to offset the stress and strain on my spine while I am performing my job. After visiting Health4Life Chiropractic I am more comfortable and pain free. I have had an excellent experience. The doctors and staff are friendly, caring and knowledgeable.
– Kim P., Dentist
Whole Body Improvement
When I first came to Health4Life Chiropractic my concerns were back problems, hips and legs twisting inward, seeing black dots, focus, and being tired from lack of weakness in my legs, arms, shoulder and head. My health and well-being has improved very much. Overall I have a better understanding of my body. I walk better, sleep more, smile more and I'm happier. This is the best thing that could have happened to me. The whole improvement of my body is it's re-aligned to work the way it should.
– Betty W.
Thankful for Relief
Prior to Health4Life, I was experiencing several symptoms that were growing more and more painful with time. The worst was frequent pain in my lower back whenever I was on my feet. Standing for long periods of time had become very difficult. In addition to that, I periodically felt tension and discomfort between my shoulder blades. This would become particularly painful during intense athletic activity. Also, my neck was often tense, uncomfortable and generally inflexible. Finding a comfortable position for my neck while sleeping was frustrating and the simple act of swallowing took a lot of effort.
Having been somewhat skeptical of chiropractic care, I have honestly been surprised by the significant benefit I've experienced at Heatlh4Life. Every one of the issues I had before seeing Dr. Muller have improved. I haven't experienced lower back pain in months. The area between my shoulder blades has been relaxed and pain free as well. And the most encouraging improvement has been in the relief, relaxation and increased mobility in my neck. Sleeping has become far more comfortable and I now have next to no difficulty swallowing. The greatest surprise came after comparing my initial x-rays with later x-rays. I had visible improvement in the alignment and curvature of my spine literally from top to bottom.
My experience at Health4Life has been overwhelmingly positive. I have really appreciated the professional yet personable care I've received. Assessments and explanations have been thorough and understandable. I can tell that the entire staff team care about the work that they do and the people they help. I have appreciated the emphasis on overall health and the desire to see people maximize the physical resources God has given them. I'm genuinely thankful for and frequently talk about the timely help I've received at Health4Life Chiropractic.
– Monty W., Pastor
Migraines are Gone!
My main health concern when I started at Health4Life was migraines. I was working full time in Cool Springs and went to a chiropractor there. I then changed to working in Murfreesboro. I didn't take the time to find a chiropractor in the area. After one month of no adjustments I got three migraines in one week. I found a chiropractor I could trust and the migraines are gone! If I get adjusted on a regular basis I do not get migraines and if I do they are rare.
– Jody S., Corporate Service Coordinator


Health 4 Life Chiropractic Reviews | (615) 893-2211